I had the fortune of attending the MJSA ConFab conference at the Fashion Institute of Technology (FIT) in New York City last weekend. I brought an Ember to show the jewelry designers in attendance how 3D printing streamlines the design-to-manufacturing process and enables the creation of extremely complex geometries that are otherwise difficult to achieve with traditional modeling techniques.
I was joined by Yianni Andrikopouls, founder of Virtual Jewelry, a New York City-based digital prototyping company, who has been using Ember to produce beautiful pieces for a range of clients. Yianni and I met with designers, casters, stone-setters, students and business development specialists who were interested in seeing how Ember could help improve their operations. I explained how Ember employs Digital Light Projection (DLP) to solidify a variety of photo-sensitive resins, including a castable material that acts like lost wax. Yianni (pictured below), who has a wealth of experience casting jewelry from parts printed on Ember spoke in great detail about the advantages of using this technology.
Those in attendance had a lot of good questions that I think are worth sharing with the wider community. Here are some of the most common ones:
What are all those little structures coming off the printed jewelry pieces?
o Ember produces support structures to ens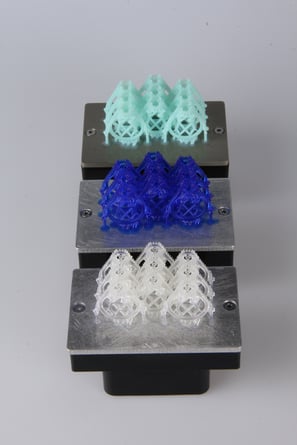 ure that complex geometries print accurately without any deformations. These structures have been optimized in Print Studio, software that aids designers in placing supports in weak areas of their models. Print Studio has numerous features, which help modelers identify problem areas in designs and tools that can fix them.
How long does it take to print a piece?
o Printing duration depends on numerous factors. Orientation of the model, layer thickness and the manipulation of a list of advanced settings determine how long any given print will take. For example, rings are typically printed in investment casting resin and are positioned vertically at a layer thickness of 25 microns. In this scenario, you can expect the rings to take about 2 hours to build. That may seem like a while, but remember that you can put many rings on one build surface. In this photo, 9 rings print at once in that 2-hour time period.
Why is the build volume so small?
o Ember was designed specifically for jewelers, medical device manufacturers and research scientists. All of these fields require extreme precession, which Ember is able to provide, while remaining affordable to small business owners and individuals. Unlike other printers on the market, which can run well over $60k, Ember is reasonably priced without sacrificing quality.
Is it hard to learn to use Ember?
o This is a tricky question. In one sense, Ember is extremely easy to use. You can use Ember right out of the box and get some great prints. Modeling a piece of jewelry is the hard part. Basic printing is as easy as clicking 'print' and making sure the printer is prepared for production. On the other hand, Ember allows for the manipulation of dozens of settings, the mastery of which requires hours of testing and refinement. Ember is unlike other printers in that it's architecture, software, firmware and materials formulations are open source, giving users the opportunity to customize their experience.
What post-print work is necessary?
o We recommend that any parts printed on Ember be immediately placed in isopropyl alcohol (IPA) after completion. For a piece of jewelry, we would typically place the model in IPA for 5 – 10 minutes with occasional light shaking. This process ensures all excess resin is removed from the model. After soaking in IPA, we like to put our models in a UV light oven made from some wood and a UV light bulb. This hardens the model and cures resin in tough to reach areas of the geometry.
Please let us know if you have any more questions about Ember and the jewelry design process. We are constantly experimenting with new techniques in order to give jewelers the highest quality models with smooth surfaces and precise details. We are working with casters every day to learn how to best optimize the machine and its resins. Through our efforts and those in the Ember community, we are certain designers will be very pleased with the quality of parts they get.
By Sam Hobish