Once you've ordered your Ember, it's time to make preparations for its arrival so that you'll be able to start printing safely and effectively when your boxes arrive. This includes choosing and setting up a suitable workspace, setting up waste disposal, buying supplies, installing the software, and learning how to use Ember.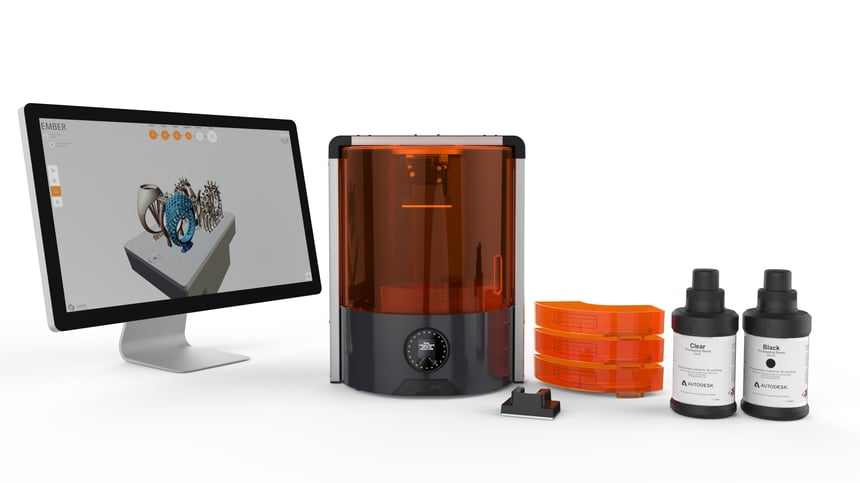 1. Safety First
SLA 3D printing requires the use of resins and solvents that must be properly handled to ensure safety. Proper chemical handling techniques require that everyone who has access to your Ember and related materials should know how to properly use gloves, safety glasses, and protective clothing to avoid direct contact with these chemicals. Additionally, 3D printing requires the use of sharp tools to remove printed models from the build plate. Therefore, proper tool handling techniques are essential to assure a safe print finishing process. For more information, read the Safety Information article in Ember's user manual.
2. Choose and Set Up a Suitable Workspace
A suitable workspace for Ember is one that restricts access to people who have been trained on the safe use of Ember, its materials, and tools. Children and pets should not be allowed to enter this area unattended. Due to the risk of chemical contamination, food and drink should not be allowed into the space. Also, a room with shades on the widows is ideal. The shades will protect the photosensitive resin from ambient exposure, and the window will provide the basic ventilation that's required.
We recommend setting up Ember and finishing station on a sturdy stainless steel lab bench with a safety lip at the top (like this one). Stainless steel is ideal due its non-porous nature, which enables spills to be easily cleaned up. The safety lip helps contain any spills. Make sure to always wear safety glasses, nitrile gloves, and protective clothing whenever handling resin or solvents, and be careful not to transfer liquid resin to other objects by touching them when you have resin on your gloves. We also recommend that you have an eyewash station nearby.
You will need to set up your workbench near a standard power outlet - either 120 or 220V, depending on your region.
Here are some signs to post in your work area to remind yourself and others of safety in your work area:
3. Set Up Liquid and Solid Waste Disposal
Check your local environmental laws and facility waste disposal policies before throwing away liquid and solid waste. Although regulations vary by region, the best practice is to dispose of liquid and solid waste that has uncured resin on it by taking it to a facility that handles hazardous waste.
Liquid waste includes resin and solvents, such as isopropyl alcohol. At our labs, we use a funnel to pour liquid resin and solvent into a plastic utility jug, and then have it picked up and packaged in an appropriate hazardous material shipping container by a hazardous waste vendor to be taken to a facility that handles liquid hazardous waste. We recommend (and the environmental safety laws of many regions require) that you do not dispose of liquid resin and/or solvent in sink drains or in the normal trash. For solid waste that contains uncured resin, such as paper towels and gloves,we also collect and dispose of this as solid waste. Use a solid hazardous waste collection container to collect solid waste.
Solid waste consisting of fully cured parts that do not contain liquid resin may be safely disposed of in the regular trash, provided that post-print cleaning and UV post-curing treatment was done effectively. If post-print cleaning and UV post-curing was not done properly, some prints may still contain unreacted resin, and may need to be disposed of as hazardous waste, based on your local environmental laws.
4. Buy Supplies for Your Finishing Station
The finishing kit that comes with the Ember bundle provides you most of what you need, but you'll need to buy the following additional items for your station:
Isopropyl alcohol, 90%+ (IPA) - You will use this solvent to remove the excess resin from your finished prints.
Spray bottle - Fill this with IPA and use it to clean your work surface (be sure to label it as containing IPA).
Lens paper - Use this (moistened with a spray of IPA) to clean the glass covering the projector bay and the glass bottom of the resin tray.
Paper towels - You will use many of these to keep your work surface and Ember clean. [Don't use paper towels to clean the surface of the PDMS inside the resin tray, as this would scratch and damage it.]
Nitrile gloves - Although your Ember comes with gloves, you'll probably want to buy more (like these ones), as you'll use a lot of these, and you can buy ones that fit your hand size.
Paint strainers - Use strainers like these to clean your resin if a print has failed.
Plastic storage bins (optional) - You may find stackable storage bins like these helpful to use both for organization and spill containment.
UV lamp (optional) - Use a unit like this after you've rinsed your printed model in IPA to reduce the tackiness of the print.
5. Download & Install Print Studio
Download and install Autodesk's Print Studio software so that you'll be ready to start preparing your 3D models for printing when your Ember arrives. With Print Studio, you can import a single or multiple models to the build plate, scan and repair any errors in the model/s, orient your model/s, add support structures, define your print settings, and send the print job to your connected Ember. For instruction on using Print Studio with Ember, check out Preparing a Job Overview on Ember's support site.
6. Start Learning How To Use Ember
Even before your Ember arrives, you can start learning how to use it by reading Ember's training documentation. This page on Ember Support site contains links to all of the resources that will teach you how to use Ember's hardware, software, and materials. Once your Ember has arrived, be sure to review the safety information and the Print Prep Checklist before trying to run a print.
Another way to learn about Ember is to visit the Ember Forum, where you'll find posts by other Ember customers, and where you can post your own comments and questions about Ember.
These preparations will help assure that you'll be well prepared to start printing as soon as your Ember arrives. The Ember Production Package will arrive receive three boxes. The main (and largest) box will contain:
1 Ember
2 build heads
4 resin trays
1 USB cable
1 power supply (but not the wall plug)
The second box will contain the Finishing Kit, which includes:
1 wall plug (the one that works for your country)
50 pairs of nitrile gloves
1 pair of safety glasses
1 cutting mat
1 stainless steel scraper
1 flexible scraper
1 pair of tweezers
2 containers (to use as rinse basins)
2 stainless screen inserts for resin basins
25 paint strainers
2 squeegees (to clean the resin trays)
1 Fusion 360 gift card
Microfiber cloth wipes (to clean the PDMS, the glass beneath the PDMS, and the projector window glass)
The third box will contain:
1 L of Standard Clear Prototyping Resin (PR48)
1 L of Black Prototyping Resin (PR57b)
Conclusion
If you ever need help with your Ember, we're here for you. You can file a support ticket, and someone from our team will get back to you as soon as possible.